Enjoy your meal
Our menu 2023
ORIGINAL OX ROAST SPECIALTIES
Our oxes come from the Karlshof Municipal Estate
Roast ox in a strong red wine sauce with potato salad made from organic potatoes
in a strong red wine sauce with potato salad made from organic potatoes
Tender fillet of beef, rose roasted
with gratin of organic potatoes, crunchy garden vegetables and light pepper sauce
Ox prime rib, roasted pink - approx. 500 g
with potato-cucumber salad from organic potatoes
Plate meat boiled (ox brisket)
with organic root vegetables, grated horseradish and organic parsley potatoes
with Krusperl and grated potato dumpling
stuffed with leaf parsley and grilled crispy with organic farm butter
with Krusperl, dark sauce and grated potato dumpling
Beef cheeks braised in red wine sauce
with organic potato gratin and organic wild mushroom vegetables
with spicy pepper-red wine sauce, organic rosemary potatoes, organic zucchini bell pepper vegetables
Ox burger - 200 g - medium roasted
with cheese, special smoky BBQ sauce, potato chips
with gravy and potato salad from organic potatoes
Munich liver dumpling soup
with noble mushrooms and leaf parsley
White sausage from straw pig, 2 pieces
with sweet mustard (until 2 pm)
Ox bratwurst fiery with cheese
with potato salad from organic potatoes
Pork sausage from straw pig, 2 pairs
Organic cucumber salad with jar with dill cream
Potato dumplings with sauce, 1 piece
Potato salad from organic potatoes
VEGAN DELICATIES with chef Sebastian Copien
vegan deli salad like Lyonnaise style meat salad made with sunflower seeds, vegan sausage spread based on sunflower protein, vegan chili "landjäger" saussage based on wheat protein, pickled gherkins, radish, vegan butter, organic sourdough bread
Vegan delicatessen salad like meat salad Lyon style
from sunflower seeds, Bavarian Roll
Spicy plantlets from field bean/pea proteins
with gravy and potato salad from organic potatoes
Vegan sausage from pea protein
with mashed organic potatoes, buttered breadcrumbs, mushroom-mayoram- Gravy, young organic spring onion rings
with Pulled on pea base with potato dumplings
Original Allgäuer cheese spaetzle
with grated organic Tilsiter and organic mountain cheese and roasted onions
Porcini, chanterelles, mushrooms, boletus with pretzel dumplings
Homemade spinach pretzel dumplings
with organic spinach and tomato ragout
COLD DISHES - SNACKS AND CHEESE
freshly dressed, richly garnished, 2 slices of organic sourdough bread and organic butter
salted free-range organic radish and radishes
Organic alpine cheese from Obermoos organic farm diced per 100 g
Glonntaler, mountain cheese, mountain herbs, chili cheese, richly garnished, 2 slices of organic sourdough bread and organic butter
garnished with organic radishes and blue onions, 2 slices of organic sourdough bread
Brotzeitbrettl, all organic
Hermannsdorfer Landwerkstätten aspic, Regensburger, cold roast pork, smoked meat, Mountain cheese, herb cream cheese, radish, cucumber, tomato and 2 slices of organic sourdough bread
Straw pork Regensburger sausages in vinegar and oil, with blue onions, chives, Cucumber, egg, tomato and 2 slices of organic sourdough bread
Wiesn pretzel from the bakery Piller
continuously freshly baked in the ox fryer
with rum raisins and cranberries
Bavarian cream from faba bean proteins – vegan –
with raspberry puree in a jar
Sweet steam dumoling with honey crust
served with vanilla sauce
served with vanilla sauce
Cheers
Our drink menu 2023
1 Spaten Mass non-alcoholic
Specials 2023
Children and family offers
FAMILY-CHILDREN WIESN OFFER
Pork sausage from straw pig, 2 pieces
with mashed potatoes from organic potatoes
Spaetzle with tomato sauce
(Monday to Friday until 4 pm)
First week of Oktoberfest
Pichelsteiner stew with brisket of ox
Second week of Oktoberfest
Ox goulash cooked creamy with butter spaetzle
The kitchen of the Ochsenbraterei
At Ochsenbraterei it tastes naturally well
Our kitchen is the heart of the Ochsenbraterei. Here we cook all dishes fresh for our guests – from the sauce that simmers for days to the Kaiserschmarrn made from fresh eggs.
In our kitchen, trained cooks, butchers and our chicken roasters, who come to us year after year from a village in Tyrol for the Wiesn, work as absolute professional grillers, supported by a large team of kitchen helpers and our dishwashers – more than 100 people work in our kitchen for our guests and the enjoyment on all Wiesn days from early morning until the tent closes.
Since 2022 there is also a separate kitchen team for our vegan dishes, whose recipes we have developed together with the vegan chef and expert Sebastian Copien:
These are prepared in a separate kitchen area so that ingredients, pots, pans, knives & co never come into contact with animal products. If vegan, then really vegan and of course freshly and tastily prepared.
The entire kitchen team under the direction of kitchen director Richard Lindermeier and chef Raimund Klapka lives our culinary philosophy:
ANIMAL WELFARE
Animal welfare has been the top priority in the selection of all animal products for our menu for decades – we have constantly developed this credo so that only ingredients that meet our requirements for animal welfare and animal protection make it onto the shopping list of our kitchen crew. This applies equally to meat and poultry.
REGIONALITY & SUSTAINABILITY
Regional products are particularly important to us – because the shorter the distance for vegetables and meat from the producer to our kitchen, the better and, above all, the tastier.
In addition, we consider it a matter of tradition that we, as Munich restaurateurs, work together with responsible farms from our home region.
ORGANIC WHEREVER POSSIBLE AND SENSIBLE
Organic ingredients are a matter of course for us wherever possible. Year after year we increase the organic portion on our menu. Together with our suppliers we find new, innovative solutions every year to be able to produce the quantities our Ochsenbraterei kitchen needs in organic quality.
The Ochsenbraterei is an organic part-certified company according to DE-ÖKO-006. Our suppliers are the Herrmannsdorfer Landwerkstätten, the organic butchery Juffinger GmbH and the Regenbogen Arbeit gGmbH as well as potato farmer Seitz, Naturland- and "QS Qualität aus Bayern"-certified.
In the "SUSTAINABILITY section", there is detailed information on all our actions for animal welfare, environmental protection, sustainability and energy efficiency.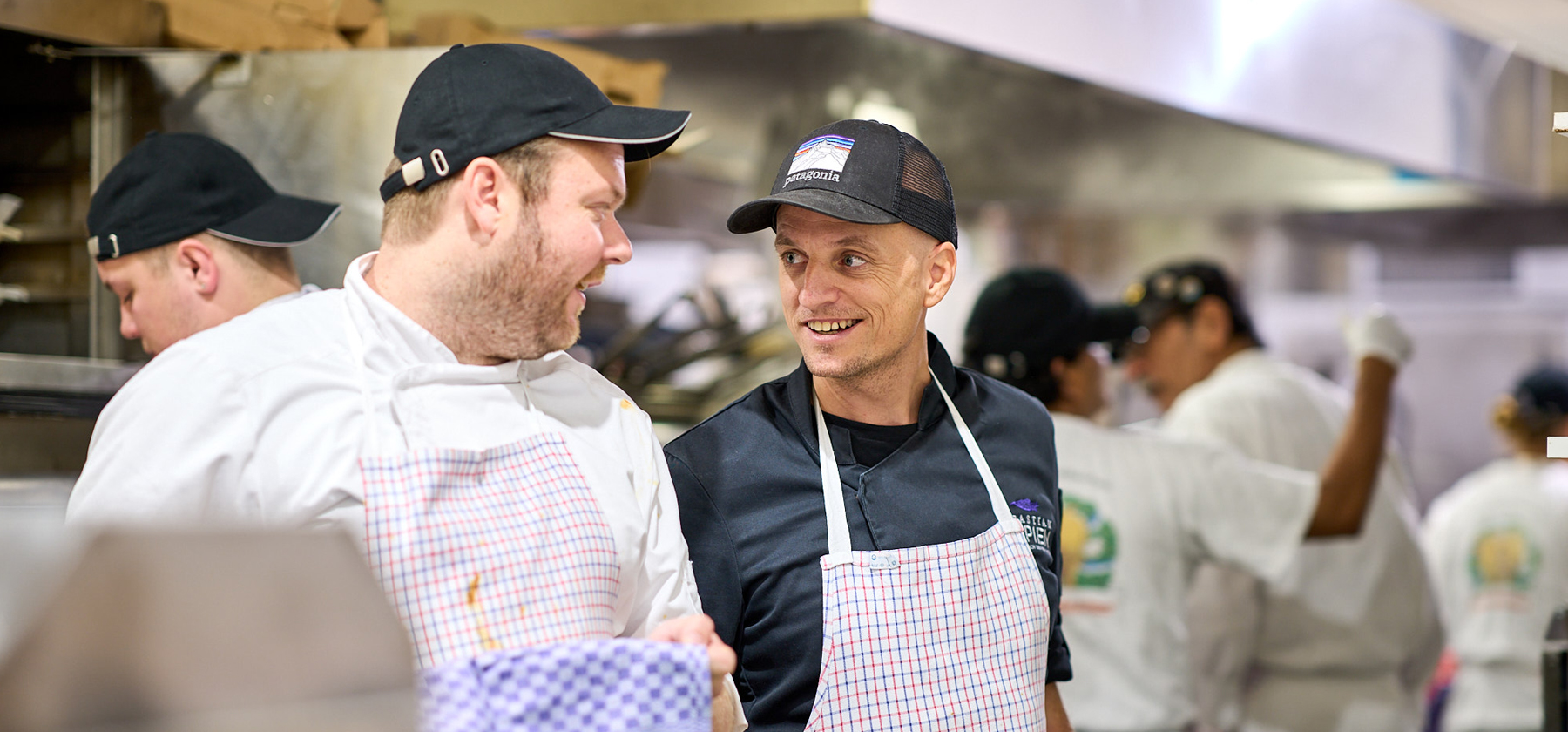 Our chicken
Private poultry farms
The poultry for our Wiesn chicken comes exclusively from private poultry farms. In order to achieve their label of the German Animal Welfare Association "For more animal welfare", numerous criteria must be met.
– more time to grow up: robust, slow-growing chicken breedsmore space due to less stocking: spacious open barns with winter gardens and natural day and night rhythm
– varied environment: straw bales, pecking stones, perches and retreats
– no genetically modified feed, high standards for animal transport, strict controls according to the guidelines of the German Animal Welfare Association.